GETTING GOOD AT SPANISH JUST GOT A WHOLE LOT EASIER...
YOU'RE JUST SECONDS AWAY FROM THE
ESSENTIAL TRAININGS, ADVICE AND SUPPORT YOU NEED
TO IMPROVE YOUR SKILLS AND CONFIDENCE IN SPANISH
STOP US IF ANY OF THIS SOUNDS FAMILIAR...
You want to improve your Spanish but don't know where to start or what will help you achieve your goals
You're frustrated with learning on your own and need to find the motivation to get started AND stick at it long term
You find learning from books isn't your thing and want to learn in a fun and innovative way that embeds learning in your long term memory
You're interested in not only learning the language, but also in learning about the culture so that you can better experience it in real life
You've spent countless hours learning grammar and vocabulary rote fashion and you're sick of the frustration of forgetting it when you most need it.
You're learning Spanish but it's not going as well as you'd like because you lack confidence, motivation and accountability especially when speaking
If it does, then you already know what a minefield it can be trying to get quality help with your learning
THAT'S WHAT INSPIRED US TO BUILD THIS PLACE
I was fed up of hearing stories about good people with great intentions, just like you, who were frustrated and demotivated and thought they weren't able to learn the language and culture because:
they thought they just weren't "good at languages" (because previous learning methods hadn't been right for them, not because that's true!)
they felt overwhelmed by how much there is to learn about the language and how many obstacles there are to overcome
they found it "impossible" to learn vocabulary, structures and grammar and be able to remember it long term, when they most needed it, especially in conversations.
they had tried and "failed" at too many over priced courses that made big claims about being "the one true way" to learn a language, making them feel inadequate
Thankfully, that's all behind you now...
Introducing the
Spice Up Your Spanish Academy
The Spice Up Your Spanish Academy is the leading academy for lovers of Spanish food, culture and language to improve their confidence, motivation and ability
It's an academy for foodies who want to learn Spanish
And it's jam-packed with in-depth, practical resources, lessons and challenges on all aspects of learning Spanish through food, cooking and recipes
PLUS the community support you need to ensure you achieve your full potential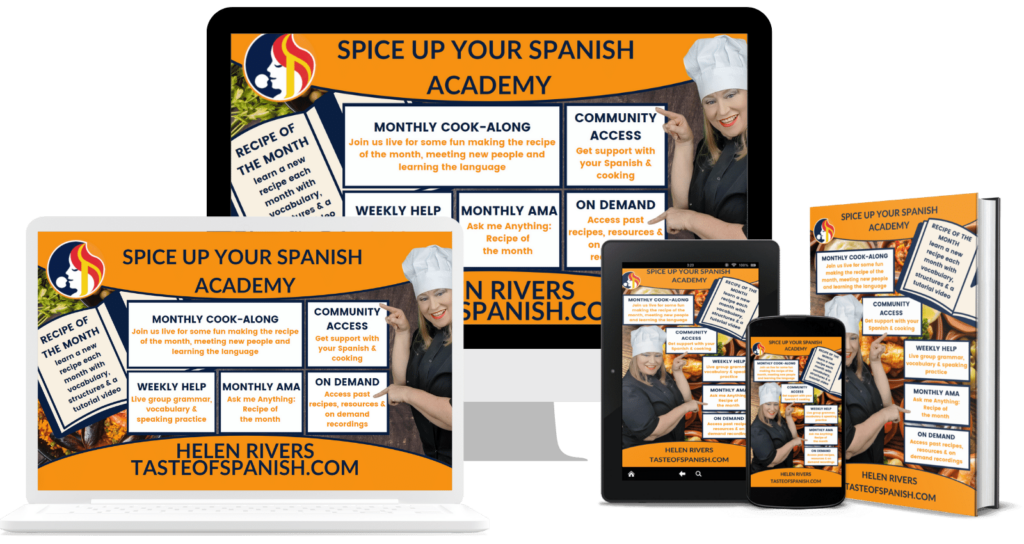 THE SPICE UP YOUR SPANISH ACADEMY
WILL HELP YOU TO...
WHAT MAKES THIS ACADEMY DIFFERENT?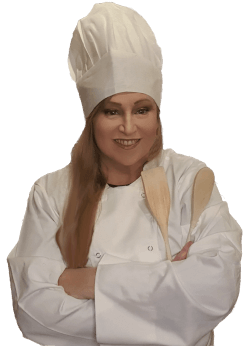 Learn from a
QUALIFIED Spanish Teacher
Hola! I'm Helen! I'm a QUALIFIED Teacher for Spanish and have been teaching for 20 years. I hold a degree in Spanish and Post Graduate Certificate in Education for Modern Foreign Languages, the international gold standard in teaching qualifications. I have taken thousands of students through their language learning journey and am also a member of The Tutors Association, the UK professional body for Tutors. Not only that, but I'm TRULY passionate about Spanish food, language and culture. You can be assured that you're in good hands.
SUPPORT AT EVERY STAGE OF YOUR MEMBERSHIP
We absolutely adore helping food lovers take their first steps into the world of learning Spanish, inspiring you to learn about the fascinating culture too.


Will this academy be too hard for you? Not at all! We ensure that people of all levels can get real value from their learning and we'll be there to guide you all the way.


Plus you'll learn so much faster alongside community members of all levels because they'll be there to support you too.


We even have a roadmap to help you on your way, showing you exactly what sort of activities to do when you first get started whilst allowing you to progress more quickly and move on to Step 2 when you have some prior knowledge under your belt.


Our academy offers a range of resources to support intermediate Spanish learners in their language development.


Explore a diverse selection of advanced recipes, immersing yourself in authentic culinary experiences while encountering sophisticated vocabulary and idiomatic expressions.


Tailored grammar lessons provide a focused approach to refining your understanding of complex language structures, enabling more precise communication.


Engage with our supportive community and participate in interactive activities to enhance conversational skills, expand vocabulary, and receive valuable feedback from peers and experienced tutors.


These opportunities propel your Spanish proficiency to new heights, instilling confidence in expressing yourself more fluently and accurately. Embrace the comprehensive resources available in our academy to navigate the intermediate level and continue your journey towards mastery of the Spanish language.


Our academy goes above and beyond to cater specifically to more experienced learners of Spanish, providing a comprehensive range of resources designed to meet your unique needs.


Immerse yourself in intricate and sophisticated language, elevate your culinary skills while expanding your advanced vocabulary and deepening your understanding of cultural nuances.


Delve into advanced grammar lessons that explore complex language structures, idiomatic expressions, and refined usage, sharpening your linguistic precision.


Engage in dynamic discussions within our community, where you can explore advanced topics, exchange insights, and receive expert feedback.


Our academy is committed to providing the intellectual stimulation, linguistic depth, and cultural immersion that advanced learners seek, fostering continued growth and mastery in their Spanish proficiency.


PLUS ALL ACADEMY MEMBERS GET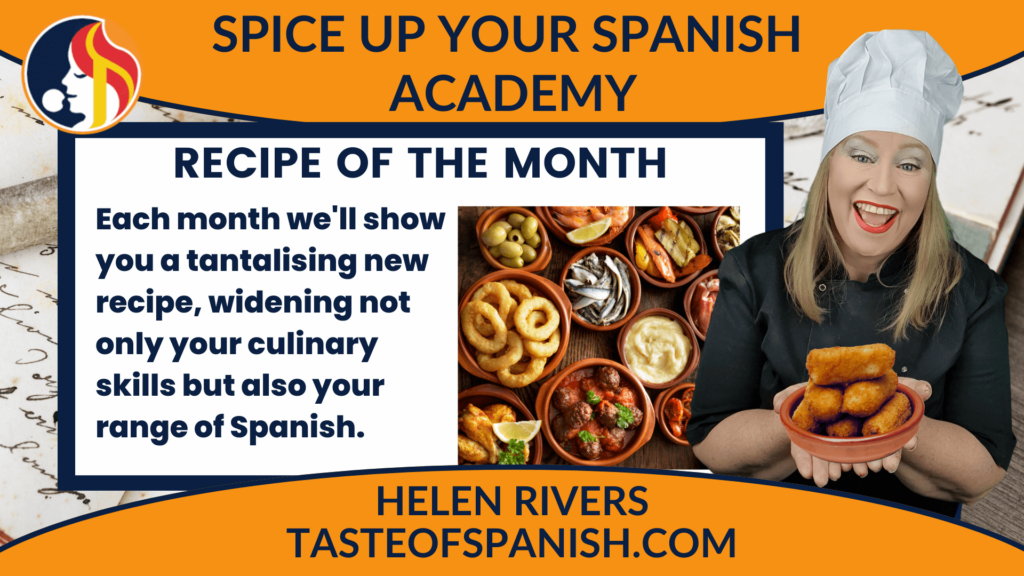 EVERY MONTH
You'll get a new Spanish recipe
Spain has such a vast array of culinary dishes that you can never run out. We give you a new one to try each month and all our monthly activities are focussed on the featured recipe. 

Want to learn about a recipe we covered in a previous month?  That's fine! You also get full access to our collection of previous recipes along with all the recordings from that month.  Got questions? You can ask about any recipe in our friendly and supportive community.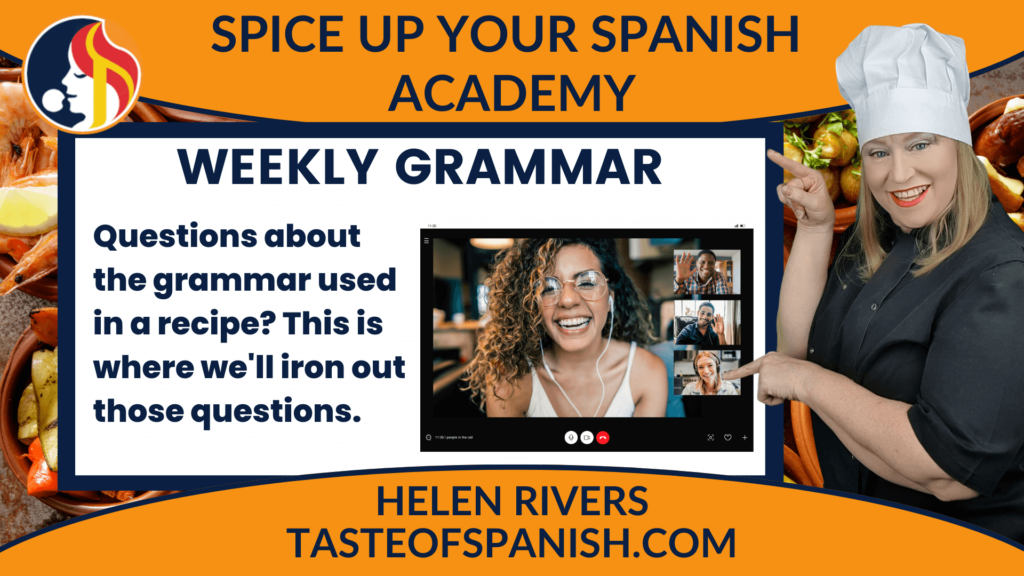 EVERY WEEK
Live group lessons on zoom covering vocabulary, grammar and structures
We host live group lessons that will pick out the most important grammar, vocabulary and structures in the recipe of the month so that you know exactly how to use them, not only in relation to cooking but in infinite other contexts too. 
Not got time to join in the live sessions? That's OK. These sessions are recorded so you can access them at any point. You'll also get access to those from previous months.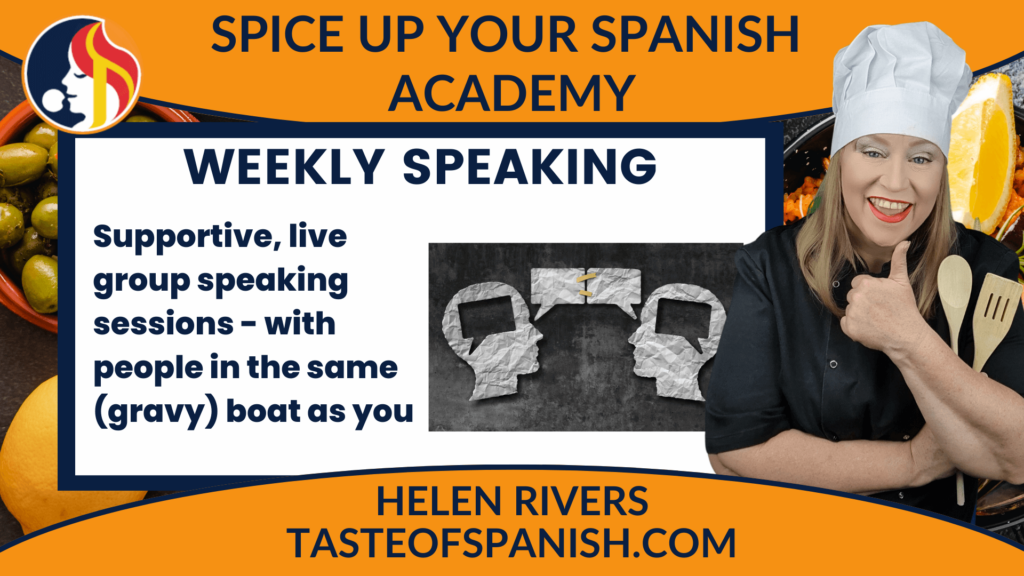 EVERY WEEK
Live group sessions on Zoom for
speaking practice
It's sooooo common to struggle with being able to speak the language and you're certainly not alone. So we offer weekly sessions for Academy members where you can get support with this skill in a judgement-free environment. 

Your tutor will use a variety of techniques to help you overcome any issues and build your confidence and ability. Plus, it helps massively being with others in exactly the same boat.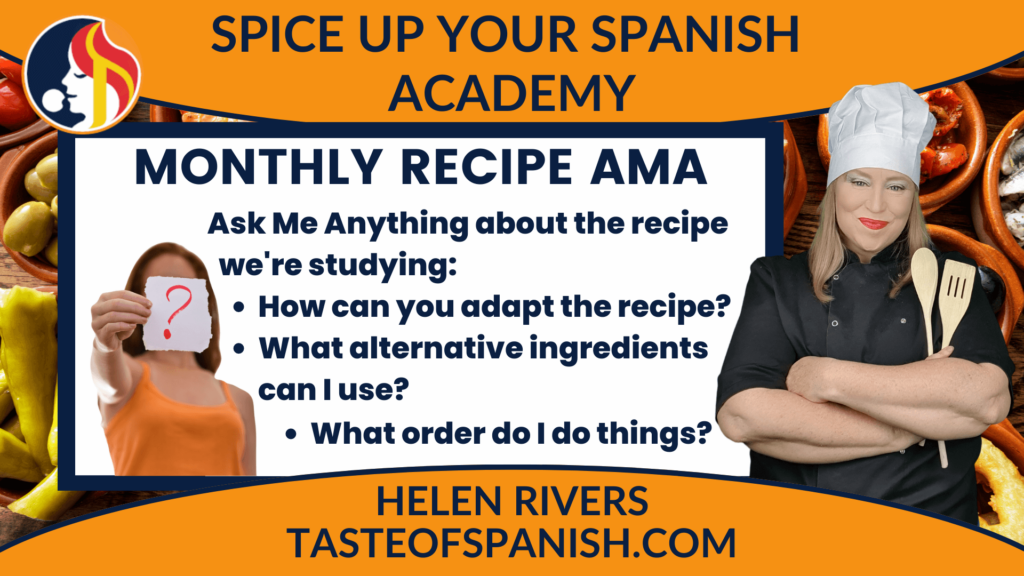 MONTHLY
Ask Me Anything - The recipe
On the second week of each month we hold a Q&A session about the recipe of the month so you're prepared for week 4, when we have the live cook-along. 
Want to ask about alternative ingredients, how to make a vegetarian version or about the origins of the dish? We answer those questions here. We also discuss the ingredients and utensils as a group and go into detail about the method.
This really is the highlight of the month! On the fourth week of each month we gather together in our kitchens for a social learning session and make the recipe live. Cook-along with us while we chat about the recipe and cooking.
Plus it's a GREAT way to get to know others in the community and form strong friendships with others who love the same thing: cooking and Spanish. It's sooooo much fun. Not to be missed!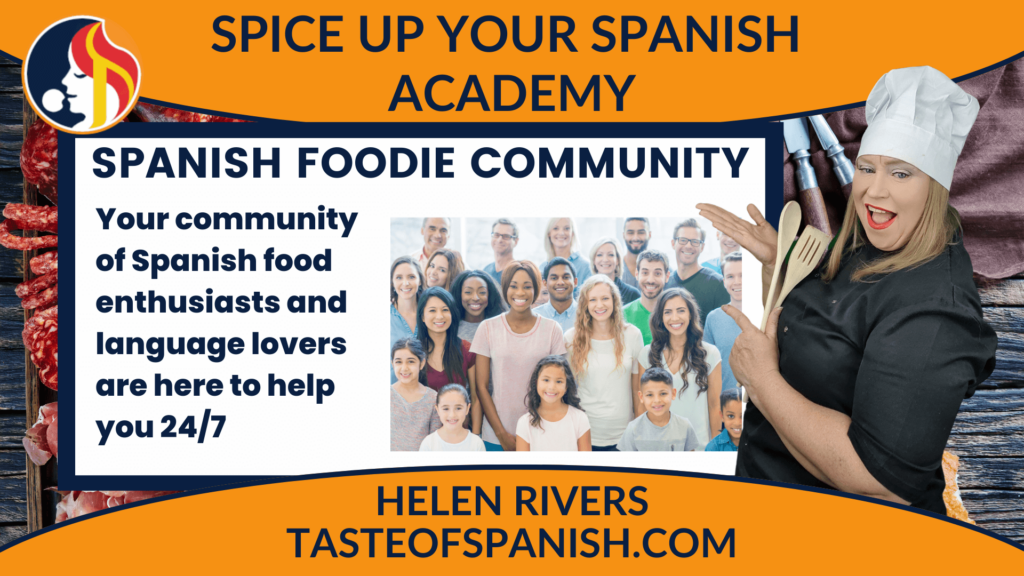 24/7 COMMUNITY
for Spanish language, cuisine and culture
As a member of the Spice Up Your Spanish Academy, you get 24/7 access to our member's community, where you can ask anything, day or night.  
Want to check you understand how a tense works? Great. Want to ask about a recipe? Cool. Join our community groups, take part in our community challenges and get replies from your tutor as well as other members. It's a great place to connect with others in the Academy.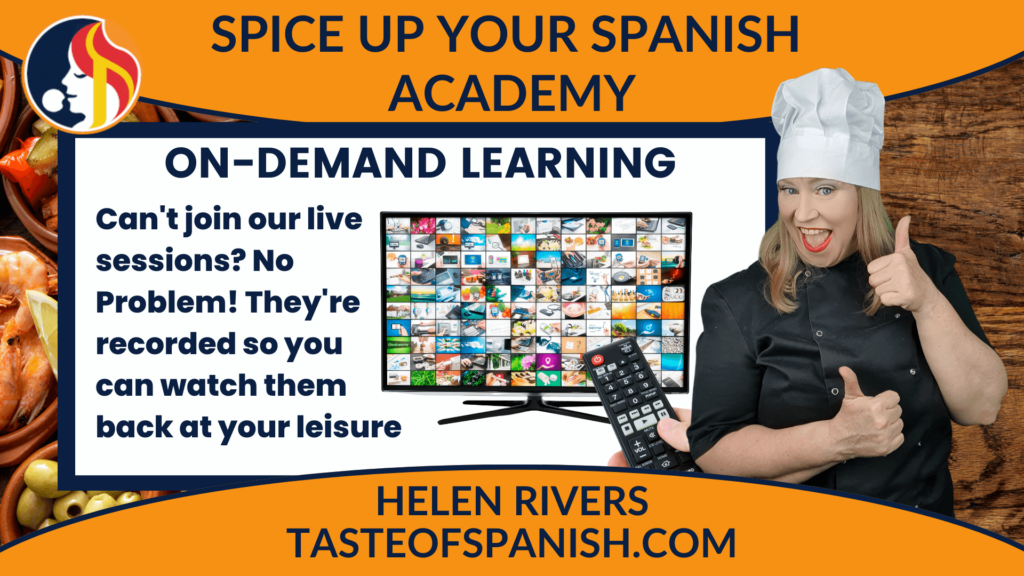 We know your time is precious. Can't make it to our live sessions? Want to access recipes we've covered previously? No worries. We've got it all covered. 
Our complete back catalogue of resources and all our previous group session recordings are available to every one of our amazing members; both new and old. Consume it all in one go or access it in bite-sized chunks as and when it suits you. It's entirely your choice. 
All of this and much more ONLY inside the academy
30 Day No Questions Asked

Money Back Guarantee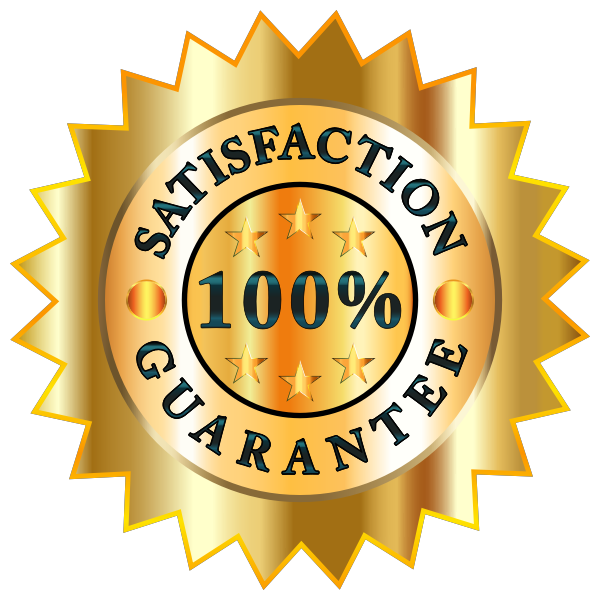 When you join the Spice Up Your Spanish Academy you are fully protected by our 100% Satisfaction Guarantee. If you don't feel like you've received value and you decide you want to cancel any time in your first 30 days, just let us know and we'll send you a prompt refund. No hassles, headaches or hoops to jump through. We're THAT confident that you'll love the Academy and find it useful so we don't make you beg or have any silly rules or conditions to getting your refund. If you're not satisfied, we're not satisfied that we've done a good job either so we will refund you without any fuss.
REAL PEOPLE, REAL SUCCESS
Joining the speaking meetings helped me gain enough confidence to speak with with other learners. During the speaking sessions Helen was able to support both recall of vocabulary and grammar.
I attended one of the Spanish Conversation Sessions and it has helped me so much! We played a fun word game and I realized that I do know some Spanish already.
I thought I wasn't good at learning languages but found the supporting interactive resources really helpful when developing my Spanish vocabulary.
I can highly recommend Helen as a tutor. My daughter is currently studying Spanish with Helen to support her GCSE learning. Helen goes above and beyond for our daughter.
Thanks to Taste Of Spanish I am having a really enjoyable time learning a language. Helen was happy to answer my queries and explain the grammar rules and when to use them
Helen helped me with pronunciation when I struggled to say certain words and sounds and she answered all of my questions when I didn't understand something.
With help from a taste of Spanish I feel I have made considerable progress by using a range of resources and the opportunity to talk with others.
(Helen) has given our daughter confidence within her ability & is constantly thinking of new ways to help & support her learning. Our daughter enjoys all her sessions with Helen.
Previously the greatest problem in learning a language was not having the opportunity to speak in a place where I felt supported and therefore more confident.
This conversation session restored my confidence that I can indeed learn Spanish. I look forward to the next session!
Join the wait list to enrol in time for July
The Spice Up Your Spanish Academy
If you're full of beans to get going with your Spanish by enrolling in the Taste Of Spanish Academy, simply click the button to join us.
Recurring payment
Cancel anytime in just a couple of clicks

Hassle-free 30 day money back guarantee
NOT SURE IF THE ACADEMY IS RIGHT FOR YOU?
The Spice Up Your Spanish is NOT for everyone, and in all honesty, we don't want your money if it's not a good fit for you, so we'd rather help you figure out BEFORE you join rather than wasting your time and money. So let's cut to the chase...
WHO THE ACADEMY IS NOT FOR
Don't get us wrong, we're not trying to persuade you not to join, but if it's not something that's going to benefit you then neither do our other members, nor do we. We have a vested interest in your success because you're not going to stick around for long if you don't, right? So it's important for everyone that you make sure the academy is right for you BEFORE you join.
FREQUENTLY ASKED QUESTIONS
So you have questions? Let's answer them for you...
Join the wait list to enrol in time for July
The Spice Up Your Spanish Academy
If you're full of beans to get going with your Spanish by enrolling in the Taste Of Spanish Academy, simply click the button to join us.
Recurring payment
Cancel anytime in just a couple of clicks

Hassle-free 30 day money back guarantee